Hey look, Aguilera looks hot again. I swear this girl is either butt ugly or really hot. I think it has a lot to do with the 12lbs of make-up she wears - someone should let her in on the "less in more" phrase. Here she can be seen promoting her new album in a completely sheer black dress that subtly states;
"Buy my album... and i'll let do me up the butt!"
Yeah, like any low-life retard would actually fall for that pile of crap...btw, anybody want an Aguilera album? I've got like 30 of''em.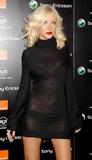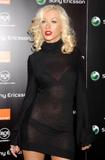 Here's some bonus pics, Christina at the Koko Club(
same outfit
):