Okay, i think i've figured out why today's kids are so fucking stupid... and they are, don't kid yourself(
haha - get it?
). So after the hottest chick on the planet, Jessica Alba, tells all the kids
"oh, looks aren't really important - teehee, thanks for the hottest chick award!"
Nelly Furtado hops up on stage and sings her song about having spontanious, promiscuous sex, with as many people as you can... then adds
"Remeber kids, don't be promiscuous... but if you do, wear a condom!"
I mean, what... the... fuck. Meh fuck it, at least she looked hot.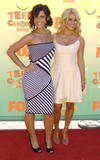 Click here to check out Nelly's Performance:
Furtado - Teen Choice